BAY POINT, CA ZIP Code
| | |
| --- | --- |
| City | BAY POINT |
| State | California |
| ZIP Codes count | 1 (see all) |
| Post offices count | 3 (see all) |
| Total population | 25,165 (see all) |
ZIP Code for BAY POINT, California
94565
This list contains only 5-digit ZIP codes. Use our
zip code lookup
by address feature to get the full 9-digit (ZIP+4) code.
ZIP Codes for BAY POINT, CA by streets
Post offices
ATLANTIC PLAZA — Post Office™
296 ATLANTIC AVE PITTSBURG, CA 94565-9993
BAY POINT — Post Office™
646 PORT CHICAGO HWY BAY POINT, CA 94565-9991
PITTSBURG — Post Office™
835 RAILROAD AVE PITTSBURG, CA 94565-9998
Envelope example
On the bottom center of the envelope, write the address you want your letter delivered to. Include the following on separate lines:
Recipient's full name
Full street address
City, State, and ZIP Code
Using the same format, write the return address in the top left corner.
Using the full ZIP+4 Code when mailing via the USPS ensures the fastest, most accurate mailing possible.
If you are not sure of the full 9-digit ZIP Code, use the 5-digit ZIP Code to avoid loss of letter or package.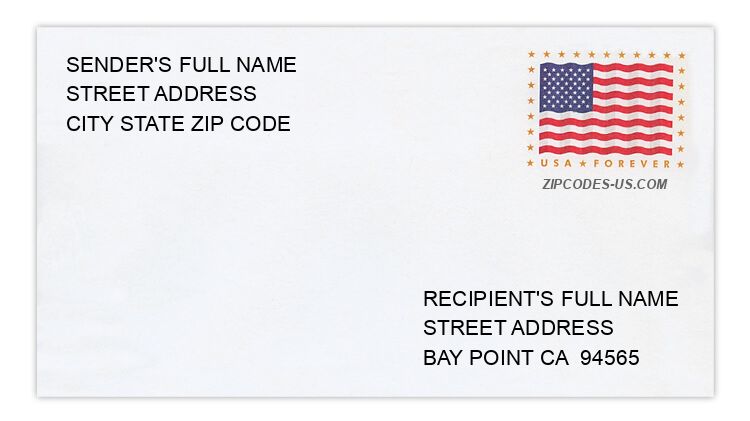 The recipient address information is provided for your reference.
Address example
77 ALBERTS AVE
BAY POINT CA 94565-3101
720 CASKEY ST
BAY POINT CA 94565-6772
593 COASTVIEW CT
BAY POINT CA 94565-6798
2077 RAPALLO WAY
BAY POINT CA 94565-6752
185 SHARON PL
BAY POINT CA 94565-1537
1108 SOLANO AVE
BAY POINT CA 94565-3350
Census data for BAY POINT, CA
Demographic and housing estimates in BAY POINT, CA
Total population

| | |
| --- | --- |
| Total population | 25,165 |
| Male | 13,247 |
| Female | 11,918 |
Population by age

| | |
| --- | --- |
| Total population | 25,165 |
| Under 5 years | 1,695 |
| 5 to 9 years | 2,148 |
| 10 to 14 years | 1,868 |
| 15 to 19 years | 2,112 |
| 20 to 24 years | 2,236 |
| 25 to 34 years | 3,859 |
| 35 to 44 years | 3,760 |
| 45 to 54 years | 3,349 |
| 55 to 59 years | 1,308 |
| 60 to 64 years | 960 |
| 65 to 74 years | 1,272 |
| 75 to 84 years | 492 |
| 85 years and over | 106 |
| Median age (years) | 31.0 |
| Under 18 years | 7,067 |
| Under 16 years | 18,973 |
| 18 years and over | 18,098 |
| 21 years and over | 16,983 |
| 62 years and over | 2,371 |
| 65 years and over | 1,870 |
Population by race

| | |
| --- | --- |
| Total population | 25,165 |
| One race | 23,169 |
| White | 9,183 |
| Black or African American | 2,805 |
| American Indian and Alaska Native | 279 |
| Asian | 2,109 |
| Native Hawaiian and Other Pacific Islander | 133 |
| Some other race | 8,660 |
| Two or more races | 1,996 |
Citizen, voting age population

| | |
| --- | --- |
| Citizen, VOTING AGE 18 and over population | 12,563 |
| Male Citizen, VOTING AGE 18 and over population | 6,300 |
| Female Citizen, VOTING AGE 18 and over population | 6,263 |
Social characteristics in BAY POINT, CA
Households by type

| | |
| --- | --- |
| Total households | 6,899 |
| Family households (families) | 5,586 |
| Married-couple family | 3,500 |
| Male householder, no wife present, family | 625 |
| Female householder, no husband present, family | 1,461 |
| Nonfamily households | 1,313 |
| Average household size | 3.64 |
| Average family size | 3.95 |
Economic characteristics in BAY POINT, CA
Income and benefits (in 2018 inflation-adjusted dollars)

| | |
| --- | --- |
| Total households | 6,899 |
| Less than $10,000 | 411 |
| $10,000 to $14,999 | 354 |
| $15,000 to $24,999 | 573 |
| $25,000 to $34,999 | 764 |
| $35,000 to $49,999 | 1,132 |
| $50,000 to $74,999 | 1,215 |
| $75,000 to $99,999 | 1,059 |
| $100,000 to $149,999 | 720 |
| $150,000 to $199,999 | 339 |
| $200,000 or more | 332 |
| Median household income (dollars) | 55,856 |
Housing characteristics in BAY POINT, CA
Housing occupancy

| | |
| --- | --- |
| Total housing units | 7,226 |
| Occupied housing units | 6,899 |
| Vacant housing units | 327 |
Units in structure

| | |
| --- | --- |
| Total housing units | 7,226 |
| 1-unit, detached | 3,933 |
| 1-unit, attached | 788 |
| 2 units | 170 |
| 3 or 4 units | 317 |
| 5 to 9 units | 452 |
| 10 to 19 units | 334 |
| 20 or more units | 218 |
| Mobile home | 1,014 |
| Boat, RV, van, etc. | 0 |
Year structure built

| | |
| --- | --- |
| Total housing units | 7,226 |
| Built 2014 or later | 86 |
| Built 2010 to 2013 | 0 |
| Built 2000 to 2009 | 379 |
| Built 1990 to 1999 | 899 |
| Built 1980 to 1989 | 1,911 |
| Built 1970 to 1979 | 1,210 |
| Built 1960 to 1969 | 744 |
| Built 1950 to 1959 | 926 |
| Built 1940 to 1949 | 533 |
| Built 1939 or earlier | 538 |
Rooms

| | |
| --- | --- |
| Total housing units | 7,226 |
| 1 room | 0 |
| 2 rooms | 83 |
| 3 rooms | 584 |
| 4 rooms | 2,200 |
| 5 rooms | 2,266 |
| 6 rooms | 1,036 |
| 7 rooms | 515 |
| 8 rooms | 365 |
| 9 rooms or more | 177 |
| Median rooms | 4.8 |
Bedrooms

| | |
| --- | --- |
| Total housing units | 7,226 |
| No bedroom | 0 |
| 1 bedroom | 499 |
| 2 bedrooms | 2,450 |
| 3 bedrooms | 3,316 |
| 4 bedrooms | 819 |
| 5 or more bedrooms | 142 |
Housing tenure

| | |
| --- | --- |
| Occupied housing units | 6,899 |
| Owner-occupied | 3,804 |
| Renter-occupied | 3,095 |
| Average household size of owner-occupied unit | 3.45 |
| Average household size of renter-occupied unit | 3.87 |
Year householder moved into unit

| | |
| --- | --- |
| Occupied housing units | 6,899 |
| Moved in 2017 or later | 222 |
| Moved in 2015 to 2016 | 598 |
| Moved in 2010 to 2014 | 2,565 |
| Moved in 2000 to 2009 | 1,832 |
| Moved in 1990 to 1999 | 827 |
| Moved in 1989 and earlier | 855 |
Value

| | |
| --- | --- |
| Owner-occupied units | 3,804 |
| Less than $50,000 | 446 |
| $50,000 to $99,999 | 444 |
| $100,000 to $149,999 | 290 |
| $150,000 to $199,999 | 234 |
| $200,000 to $299,999 | 732 |
| $300,000 to $499,999 | 1,454 |
| $500,000 to $999,999 | 150 |
| $1,000,000 or more | 54 |
| Median (dollars) | 275,100 |
Mortgage status

| | |
| --- | --- |
| Owner-occupied units | 3,804 |
| Housing units with a mortgage | 2,259 |
| Housing units without a mortgage | 1,545 |
Gross rent

| | |
| --- | --- |
| Occupied units paying rent | 2,985 |
| Less than $500 | 125 |
| $500 to $999 | 454 |
| $1,000 to $1,499 | 1,165 |
| $1,500 to $1,999 | 946 |
| $2,000 to $2,499 | 258 |
| $2,500 to $2,999 | 27 |
| $3,000 or more | 10 |
| Median (dollars) | 1,389 |
| No rent paid | 110 |
Data is based on 2018 Census
ZIP Codes for other locations
Other cities in California