FORDLAND, MO ZIP Code
| | |
| --- | --- |
| City | FORDLAND |
| State | Missouri |
| ZIP Codes count | 1 (see all) |
| Post offices count | 2 (see all) |
| Total population | 915 (see all) |
ZIP Code for FORDLAND, Missouri
65652
This list contains only 5-digit ZIP codes. Use our
zip code lookup
by address feature to get the full 9-digit (ZIP+4) code.
ZIP Codes for FORDLAND, MO by streets
Post offices
FORDLAND — Post Office™
132 MAIN ST FORDLAND, MO 65652-9998
ROGERSVILLE — Post Office™
226 W CENTER ST ROGERSVILLE, MO 65742-9998
Envelope example
On the bottom center of the envelope, write the address you want your letter delivered to. Include the following on separate lines:
Recipient's full name
Full street address
City, State, and ZIP Code
Using the same format, write the return address in the top left corner.
Using the full ZIP+4 Code when mailing via the USPS ensures the fastest, most accurate mailing possible.
If you are not sure of the full 9-digit ZIP Code, use the 5-digit ZIP Code to avoid loss of letter or package.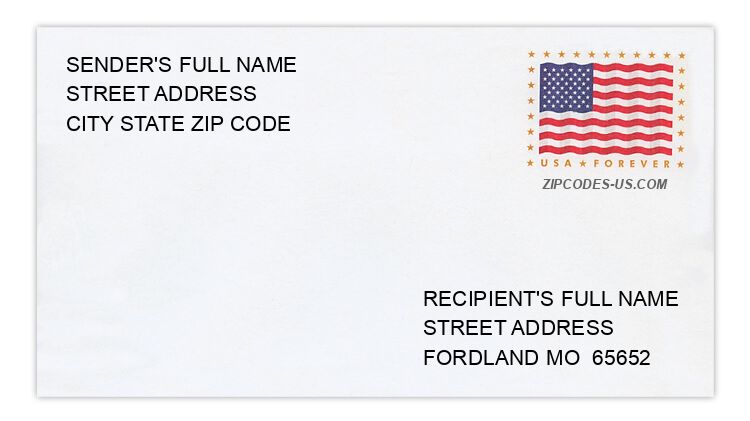 The recipient address information is provided for your reference.
Address example
231 HAYES ST
FORDLAND MO 65652-9215
1887 RED OAK RD
FORDLAND MO 65652-9150
439 SAND HILL LN
FORDLAND MO 65652-7216
1052 SCHOOL ST
FORDLAND MO 65652-7136
976 SPARROWHAWK RD
FORDLAND MO 65652-8315
53 STONEHAVEN
FORDLAND MO 65652-7377
Census data for FORDLAND, MO
Demographic and housing estimates in FORDLAND, MO
Total population

| | |
| --- | --- |
| Total population | 915 |
| Male | 448 |
| Female | 467 |
Population by age

| | |
| --- | --- |
| Total population | 915 |
| Under 5 years | 51 |
| 5 to 9 years | 86 |
| 10 to 14 years | 81 |
| 15 to 19 years | 68 |
| 20 to 24 years | 40 |
| 25 to 34 years | 114 |
| 35 to 44 years | 82 |
| 45 to 54 years | 139 |
| 55 to 59 years | 70 |
| 60 to 64 years | 42 |
| 65 to 74 years | 86 |
| 75 to 84 years | 42 |
| 85 years and over | 14 |
| Median age (years) | 37.8 |
| Under 18 years | 267 |
| Under 16 years | 664 |
| 18 years and over | 648 |
| 21 years and over | 629 |
| 62 years and over | 160 |
| 65 years and over | 142 |
Population by race

| | |
| --- | --- |
| Total population | 915 |
| One race | 872 |
| White | 861 |
| Black or African American | 11 |
| American Indian and Alaska Native | 0 |
| Asian | 0 |
| Native Hawaiian and Other Pacific Islander | 0 |
| Some other race | 0 |
| Two or more races | 43 |
Citizen, voting age population

| | |
| --- | --- |
| Citizen, VOTING AGE 18 and over population | 642 |
| Male Citizen, VOTING AGE 18 and over population | 292 |
| Female Citizen, VOTING AGE 18 and over population | 350 |
Social characteristics in FORDLAND, MO
Households by type

| | |
| --- | --- |
| Total households | 354 |
| Family households (families) | 241 |
| Married-couple family | 163 |
| Male householder, no wife present, family | 30 |
| Female householder, no husband present, family | 48 |
| Nonfamily households | 113 |
| Average household size | 2.58 |
| Average family size | 3.16 |
Economic characteristics in FORDLAND, MO
Income and benefits (in 2018 inflation-adjusted dollars)

| | |
| --- | --- |
| Total households | 354 |
| Less than $10,000 | 30 |
| $10,000 to $14,999 | 37 |
| $15,000 to $24,999 | 62 |
| $25,000 to $34,999 | 67 |
| $35,000 to $49,999 | 48 |
| $50,000 to $74,999 | 75 |
| $75,000 to $99,999 | 16 |
| $100,000 to $149,999 | 19 |
| $150,000 to $199,999 | 0 |
| $200,000 or more | 0 |
| Median household income (dollars) | 32,935 |
Housing characteristics in FORDLAND, MO
Housing occupancy

| | |
| --- | --- |
| Total housing units | 383 |
| Occupied housing units | 354 |
| Vacant housing units | 29 |
Units in structure

| | |
| --- | --- |
| Total housing units | 383 |
| 1-unit, detached | 284 |
| 1-unit, attached | 8 |
| 2 units | 33 |
| 3 or 4 units | 22 |
| 5 to 9 units | 0 |
| 10 to 19 units | 7 |
| 20 or more units | 2 |
| Mobile home | 27 |
| Boat, RV, van, etc. | 0 |
Year structure built

| | |
| --- | --- |
| Total housing units | 383 |
| Built 2014 or later | 0 |
| Built 2010 to 2013 | 12 |
| Built 2000 to 2009 | 40 |
| Built 1990 to 1999 | 84 |
| Built 1980 to 1989 | 40 |
| Built 1970 to 1979 | 105 |
| Built 1960 to 1969 | 14 |
| Built 1950 to 1959 | 18 |
| Built 1940 to 1949 | 32 |
| Built 1939 or earlier | 38 |
Rooms

| | |
| --- | --- |
| Total housing units | 383 |
| 1 room | 0 |
| 2 rooms | 21 |
| 3 rooms | 30 |
| 4 rooms | 121 |
| 5 rooms | 86 |
| 6 rooms | 59 |
| 7 rooms | 41 |
| 8 rooms | 15 |
| 9 rooms or more | 10 |
| Median rooms | 4.7 |
Bedrooms

| | |
| --- | --- |
| Total housing units | 383 |
| No bedroom | 0 |
| 1 bedroom | 36 |
| 2 bedrooms | 172 |
| 3 bedrooms | 146 |
| 4 bedrooms | 27 |
| 5 or more bedrooms | 2 |
Housing tenure

| | |
| --- | --- |
| Occupied housing units | 354 |
| Owner-occupied | 182 |
| Renter-occupied | 172 |
| Average household size of owner-occupied unit | 2.72 |
| Average household size of renter-occupied unit | 2.44 |
Year householder moved into unit

| | |
| --- | --- |
| Occupied housing units | 354 |
| Moved in 2017 or later | 15 |
| Moved in 2015 to 2016 | 77 |
| Moved in 2010 to 2014 | 76 |
| Moved in 2000 to 2009 | 110 |
| Moved in 1990 to 1999 | 34 |
| Moved in 1989 and earlier | 42 |
Value

| | |
| --- | --- |
| Owner-occupied units | 182 |
| Less than $50,000 | 21 |
| $50,000 to $99,999 | 94 |
| $100,000 to $149,999 | 58 |
| $150,000 to $199,999 | 7 |
| $200,000 to $299,999 | 2 |
| $300,000 to $499,999 | 0 |
| $500,000 to $999,999 | 0 |
| $1,000,000 or more | 0 |
| Median (dollars) | 84,700 |
Mortgage status

| | |
| --- | --- |
| Owner-occupied units | 182 |
| Housing units with a mortgage | 111 |
| Housing units without a mortgage | 71 |
Gross rent

| | |
| --- | --- |
| Occupied units paying rent | 157 |
| Less than $500 | 62 |
| $500 to $999 | 86 |
| $1,000 to $1,499 | 9 |
| $1,500 to $1,999 | 0 |
| $2,000 to $2,499 | 0 |
| $2,500 to $2,999 | 0 |
| $3,000 or more | 0 |
| Median (dollars) | 630 |
| No rent paid | 15 |
Data is based on 2018 Census
ZIP Codes for other locations