DUNELLEN, NJ ZIP Code
| | |
| --- | --- |
| City | DUNELLEN |
| State | New Jersey |
| ZIP Codes count | 1 (see all) |
| Post offices count | 2 (see all) |
| Total population | 7,284 (see all) |
ZIP Code for DUNELLEN, New Jersey
08812
This list contains only 5-digit ZIP codes. Use our
zip code lookup
by address feature to get the full 9-digit (ZIP+4) code.
ZIP Codes for DUNELLEN, NJ by streets
Post offices
DUNELLEN — Post Office™
311 NORTH AVE DUNELLEN, NJ 08812-9998
GREEN BROOK — Post Office™
1003 N WASHINGTON AVE GREEN BROOK, NJ 08812-9997
Envelope example
On the bottom center of the envelope, write the address you want your letter delivered to. Include the following on separate lines:
Recipient's full name
Full street address
City, State, and ZIP Code
Using the same format, write the return address in the top left corner.
Using the full ZIP+4 Code when mailing via the USPS ensures the fastest, most accurate mailing possible.
If you are not sure of the full 9-digit ZIP Code, use the 5-digit ZIP Code to avoid loss of letter or package.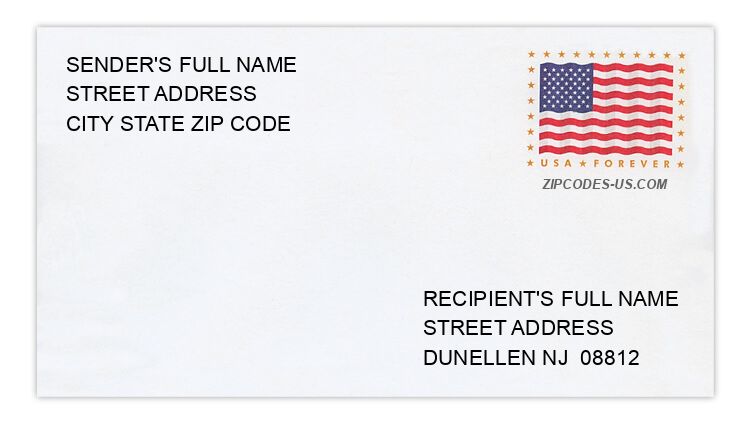 The recipient address information is provided for your reference.
Address example
271 GERTRUDE TER
DUNELLEN NJ 08812-1405
344 HIGH ST
DUNELLEN NJ 08812-1518
553 JEFFERSON AVE
DUNELLEN NJ 08812-1307
741 LINCOLN AVE
DUNELLEN NJ 08812-1131
335 S WASHINGTON AVE
DUNELLEN NJ 08812-1640
146 TOP OF THE WORLD WAY
DUNELLEN NJ 08812-1839
Census data for DUNELLEN, NJ
Demographic and housing estimates in DUNELLEN, NJ
Total population

| | |
| --- | --- |
| Total population | 7,284 |
| Male | 3,658 |
| Female | 3,626 |
Population by age

| | |
| --- | --- |
| Total population | 7,284 |
| Under 5 years | 635 |
| 5 to 9 years | 431 |
| 10 to 14 years | 500 |
| 15 to 19 years | 408 |
| 20 to 24 years | 424 |
| 25 to 34 years | 831 |
| 35 to 44 years | 1,150 |
| 45 to 54 years | 929 |
| 55 to 59 years | 646 |
| 60 to 64 years | 565 |
| 65 to 74 years | 375 |
| 75 to 84 years | 260 |
| 85 years and over | 130 |
| Median age (years) | 38.2 |
| Under 18 years | 1,876 |
| Under 16 years | 5,578 |
| 18 years and over | 5,408 |
| 21 years and over | 5,279 |
| 62 years and over | 961 |
| 65 years and over | 765 |
Population by race

| | |
| --- | --- |
| Total population | 7,284 |
| One race | 7,165 |
| White | 4,705 |
| Black or African American | 840 |
| American Indian and Alaska Native | 22 |
| Asian | 428 |
| Native Hawaiian and Other Pacific Islander | 0 |
| Some other race | 1,170 |
| Two or more races | 119 |
Citizen, voting age population

| | |
| --- | --- |
| Citizen, VOTING AGE 18 and over population | 4,681 |
| Male Citizen, VOTING AGE 18 and over population | 2,181 |
| Female Citizen, VOTING AGE 18 and over population | 2,500 |
Social characteristics in DUNELLEN, NJ
Households by type

| | |
| --- | --- |
| Total households | 2,540 |
| Family households (families) | 1,784 |
| Married-couple family | 984 |
| Male householder, no wife present, family | 335 |
| Female householder, no husband present, family | 465 |
| Nonfamily households | 756 |
| Average household size | 2.86 |
| Average family size | 3.40 |
Economic characteristics in DUNELLEN, NJ
Income and benefits (in 2018 inflation-adjusted dollars)

| | |
| --- | --- |
| Total households | 2,540 |
| Less than $10,000 | 117 |
| $10,000 to $14,999 | 40 |
| $15,000 to $24,999 | 160 |
| $25,000 to $34,999 | 205 |
| $35,000 to $49,999 | 315 |
| $50,000 to $74,999 | 461 |
| $75,000 to $99,999 | 320 |
| $100,000 to $149,999 | 507 |
| $150,000 to $199,999 | 170 |
| $200,000 or more | 245 |
| Median household income (dollars) | 69,868 |
Housing characteristics in DUNELLEN, NJ
Housing occupancy

| | |
| --- | --- |
| Total housing units | 2,700 |
| Occupied housing units | 2,540 |
| Vacant housing units | 160 |
Units in structure

| | |
| --- | --- |
| Total housing units | 2,700 |
| 1-unit, detached | 1,443 |
| 1-unit, attached | 302 |
| 2 units | 570 |
| 3 or 4 units | 191 |
| 5 to 9 units | 100 |
| 10 to 19 units | 77 |
| 20 or more units | 17 |
| Mobile home | 0 |
| Boat, RV, van, etc. | 0 |
Year structure built

| | |
| --- | --- |
| Total housing units | 2,700 |
| Built 2014 or later | 0 |
| Built 2010 to 2013 | 32 |
| Built 2000 to 2009 | 171 |
| Built 1990 to 1999 | 108 |
| Built 1980 to 1989 | 177 |
| Built 1970 to 1979 | 151 |
| Built 1960 to 1969 | 372 |
| Built 1950 to 1959 | 469 |
| Built 1940 to 1949 | 317 |
| Built 1939 or earlier | 903 |
Rooms

| | |
| --- | --- |
| Total housing units | 2,700 |
| 1 room | 15 |
| 2 rooms | 13 |
| 3 rooms | 266 |
| 4 rooms | 365 |
| 5 rooms | 438 |
| 6 rooms | 588 |
| 7 rooms | 544 |
| 8 rooms | 191 |
| 9 rooms or more | 280 |
| Median rooms | 5.9 |
Bedrooms

| | |
| --- | --- |
| Total housing units | 2,700 |
| No bedroom | 15 |
| 1 bedroom | 299 |
| 2 bedrooms | 543 |
| 3 bedrooms | 1,325 |
| 4 bedrooms | 465 |
| 5 or more bedrooms | 53 |
Housing tenure

| | |
| --- | --- |
| Occupied housing units | 2,540 |
| Owner-occupied | 1,749 |
| Renter-occupied | 791 |
| Average household size of owner-occupied unit | 2.69 |
| Average household size of renter-occupied unit | 3.23 |
Year householder moved into unit

| | |
| --- | --- |
| Occupied housing units | 2,540 |
| Moved in 2017 or later | 36 |
| Moved in 2015 to 2016 | 334 |
| Moved in 2010 to 2014 | 629 |
| Moved in 2000 to 2009 | 770 |
| Moved in 1990 to 1999 | 135 |
| Moved in 1989 and earlier | 636 |
Value

| | |
| --- | --- |
| Owner-occupied units | 1,749 |
| Less than $50,000 | 14 |
| $50,000 to $99,999 | 0 |
| $100,000 to $149,999 | 32 |
| $150,000 to $199,999 | 75 |
| $200,000 to $299,999 | 999 |
| $300,000 to $499,999 | 505 |
| $500,000 to $999,999 | 104 |
| $1,000,000 or more | 20 |
| Median (dollars) | 280,200 |
Mortgage status

| | |
| --- | --- |
| Owner-occupied units | 1,749 |
| Housing units with a mortgage | 1,228 |
| Housing units without a mortgage | 521 |
Gross rent

| | |
| --- | --- |
| Occupied units paying rent | 754 |
| Less than $500 | 0 |
| $500 to $999 | 87 |
| $1,000 to $1,499 | 384 |
| $1,500 to $1,999 | 157 |
| $2,000 to $2,499 | 106 |
| $2,500 to $2,999 | 20 |
| $3,000 or more | 0 |
| Median (dollars) | 1,267 |
| No rent paid | 37 |
Data is based on 2018 Census
ZIP Codes for other locations
Other cities in New Jersey