FOX LAKE, IL ZIP Code
| | |
| --- | --- |
| City | FOX LAKE |
| State | Illinois |
| ZIP Codes count | 1 (see all) |
| Post offices count | 2 (see all) |
| Total population | 10,606 (see all) |
ZIP Code for FOX LAKE, Illinois
60020
This list contains only 5-digit ZIP codes. Use our
zip code lookup
by address feature to get the full 9-digit (ZIP+4) code.
ZIP Codes for FOX LAKE, IL by streets
Post offices
FOX LAKE — Post Office™
33 E GRAND AVE FOX LAKE, IL 60020-1449
ROUND LAKE — Post Office™
1940 N MUNICIPAL WAY ROUND LAKE, IL 60073-4957
Envelope example
On the bottom center of the envelope, write the address you want your letter delivered to. Include the following on separate lines:
Recipient's full name
Full street address
City, State, and ZIP Code
Using the same format, write the return address in the top left corner.
Using the full ZIP+4 Code when mailing via the USPS ensures the fastest, most accurate mailing possible.
If you are not sure of the full 9-digit ZIP Code, use the 5-digit ZIP Code to avoid loss of letter or package.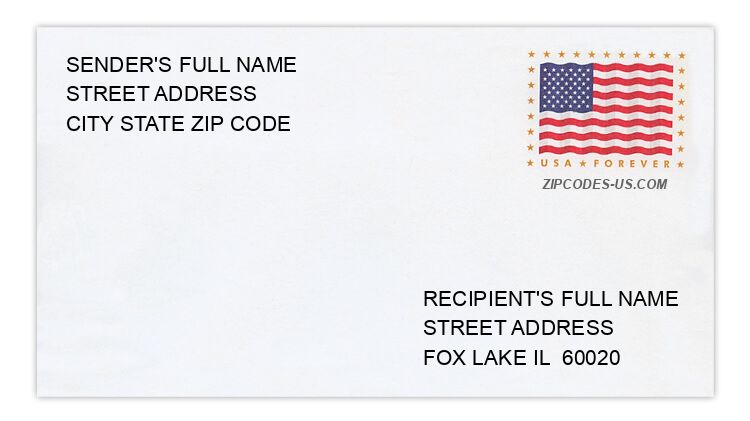 The recipient address information is provided for your reference.
Address example
8311 EVERGREEN CT
FOX LAKE IL 60020-1048
26 HIGHLAND AVE
FOX LAKE IL 60020-1520
62 LAKESIDE LN
FOX LAKE IL 60020-1509
22 MAUDE AVE
FOX LAKE IL 60020-1315
73 N LAKE AVE
FOX LAKE IL 60020-1645
7246 WHEATON LN
FOX LAKE IL 60020-1023
Census data for FOX LAKE, IL
Demographic and housing estimates in FOX LAKE, IL
Total population

| | |
| --- | --- |
| Total population | 10,606 |
| Male | 4,851 |
| Female | 5,755 |
Population by age

| | |
| --- | --- |
| Total population | 10,606 |
| Under 5 years | 787 |
| 5 to 9 years | 400 |
| 10 to 14 years | 560 |
| 15 to 19 years | 690 |
| 20 to 24 years | 768 |
| 25 to 34 years | 1,017 |
| 35 to 44 years | 1,294 |
| 45 to 54 years | 1,549 |
| 55 to 59 years | 970 |
| 60 to 64 years | 601 |
| 65 to 74 years | 1,178 |
| 75 to 84 years | 455 |
| 85 years and over | 337 |
| Median age (years) | 43.0 |
| Under 18 years | 2,074 |
| 16 years and over | 8,797 |
| 18 years and over | 8,532 |
| 21 years and over | 8,000 |
| 62 years and over | 2,410 |
| 65 years and over | 1,970 |
Population by race

| | |
| --- | --- |
| Total population | 10,606 |
| One race | 10,424 |
| White | 9,816 |
| Black or African American | 120 |
| American Indian and Alaska Native | 0 |
| Asian | 192 |
| Native Hawaiian and Other Pacific Islander | 144 |
| Some other race | 152 |
| Two or more races | 182 |
Citizen, voting age population

| | |
| --- | --- |
| Citizen, VOTING AGE 18 and over population | 8,367 |
| Male Citizen, VOTING AGE 18 and over population | 3,906 |
| Female Citizen, VOTING AGE 18 and over population | 4,461 |
Social characteristics in FOX LAKE, IL
Households by type

| | |
| --- | --- |
| Total households | 4,551 |
| Family households (families) | 2,546 |
| Married-couple family | 1,790 |
| Male householder, no wife present, family | 90 |
| Female householder, no husband present, family | 666 |
| Nonfamily households | 2,005 |
| Average household size | 2.32 |
| Average family size | 3.10 |
Economic characteristics in FOX LAKE, IL
Income and benefits (in 2018 inflation-adjusted dollars)

| | |
| --- | --- |
| Total households | 4,551 |
| Less than $10,000 | 228 |
| $10,000 to $14,999 | 231 |
| $15,000 to $24,999 | 326 |
| $25,000 to $34,999 | 484 |
| $35,000 to $49,999 | 651 |
| $50,000 to $74,999 | 1,079 |
| $75,000 to $99,999 | 547 |
| $100,000 to $149,999 | 600 |
| $150,000 to $199,999 | 174 |
| $200,000 or more | 231 |
| Median household income (dollars) | 59,635 |
Housing characteristics in FOX LAKE, IL
Housing occupancy

| | |
| --- | --- |
| Total housing units | 5,307 |
| Occupied housing units | 4,551 |
| Vacant housing units | 756 |
Units in structure

| | |
| --- | --- |
| Total housing units | 5,307 |
| 1-unit, detached | 2,620 |
| 1-unit, attached | 1,229 |
| 2 units | 206 |
| 3 or 4 units | 258 |
| 5 to 9 units | 334 |
| 10 to 19 units | 216 |
| 20 or more units | 444 |
| Mobile home | 0 |
| Boat, RV, van, etc. | 0 |
Year structure built

| | |
| --- | --- |
| Total housing units | 5,307 |
| Built 2014 or later | 0 |
| Built 2010 to 2013 | 60 |
| Built 2000 to 2009 | 960 |
| Built 1990 to 1999 | 672 |
| Built 1980 to 1989 | 430 |
| Built 1970 to 1979 | 1,402 |
| Built 1960 to 1969 | 255 |
| Built 1950 to 1959 | 721 |
| Built 1940 to 1949 | 406 |
| Built 1939 or earlier | 401 |
Rooms

| | |
| --- | --- |
| Total housing units | 5,307 |
| 1 room | 94 |
| 2 rooms | 137 |
| 3 rooms | 662 |
| 4 rooms | 1,106 |
| 5 rooms | 1,082 |
| 6 rooms | 757 |
| 7 rooms | 555 |
| 8 rooms | 370 |
| 9 rooms or more | 544 |
| Median rooms | 5.1 |
Bedrooms

| | |
| --- | --- |
| Total housing units | 5,307 |
| No bedroom | 94 |
| 1 bedroom | 885 |
| 2 bedrooms | 1,878 |
| 3 bedrooms | 1,737 |
| 4 bedrooms | 501 |
| 5 or more bedrooms | 212 |
Housing tenure

| | |
| --- | --- |
| Occupied housing units | 4,551 |
| Owner-occupied | 3,100 |
| Renter-occupied | 1,451 |
| Average household size of owner-occupied unit | 2.48 |
| Average household size of renter-occupied unit | 1.97 |
Year householder moved into unit

| | |
| --- | --- |
| Occupied housing units | 4,551 |
| Moved in 2017 or later | 185 |
| Moved in 2015 to 2016 | 699 |
| Moved in 2010 to 2014 | 1,243 |
| Moved in 2000 to 2009 | 1,491 |
| Moved in 1990 to 1999 | 486 |
| Moved in 1989 and earlier | 447 |
Value

| | |
| --- | --- |
| Owner-occupied units | 3,100 |
| Less than $50,000 | 95 |
| $50,000 to $99,999 | 572 |
| $100,000 to $149,999 | 783 |
| $150,000 to $199,999 | 587 |
| $200,000 to $299,999 | 572 |
| $300,000 to $499,999 | 365 |
| $500,000 to $999,999 | 90 |
| $1,000,000 or more | 36 |
| Median (dollars) | 156,700 |
Mortgage status

| | |
| --- | --- |
| Owner-occupied units | 3,100 |
| Housing units with a mortgage | 2,070 |
| Housing units without a mortgage | 1,030 |
Gross rent

| | |
| --- | --- |
| Occupied units paying rent | 1,408 |
| Less than $500 | 114 |
| $500 to $999 | 673 |
| $1,000 to $1,499 | 438 |
| $1,500 to $1,999 | 130 |
| $2,000 to $2,499 | 26 |
| $2,500 to $2,999 | 27 |
| $3,000 or more | 0 |
| Median (dollars) | 956 |
| No rent paid | 43 |
Data is based on 2018 Census
ZIP Codes for other locations