BRUSLY, LA ZIP Code
| | |
| --- | --- |
| City | BRUSLY |
| State | Louisiana |
| ZIP Codes count | 1 (see all) |
| Post offices count | 2 (see all) |
| Total population | 2,739 (see all) |
ZIP Code for BRUSLY, Louisiana
70719
This list contains only 5-digit ZIP codes. Use our
zip code lookup
by address feature to get the full 9-digit (ZIP+4) code.
ZIP Codes for BRUSLY, LA by streets
Post offices
BRUSLY — Post Office™
315 E MAIN ST BRUSLY, LA 70719-9998
PORT ALLEN — Post Office™
600 COURT ST PORT ALLEN, LA 70767-9998
Envelope example
On the bottom center of the envelope, write the address you want your letter delivered to. Include the following on separate lines:
Recipient's full name
Full street address
City, State, and ZIP Code
Using the same format, write the return address in the top left corner.
Using the full ZIP+4 Code when mailing via the USPS ensures the fastest, most accurate mailing possible.
If you are not sure of the full 9-digit ZIP Code, use the 5-digit ZIP Code to avoid loss of letter or package.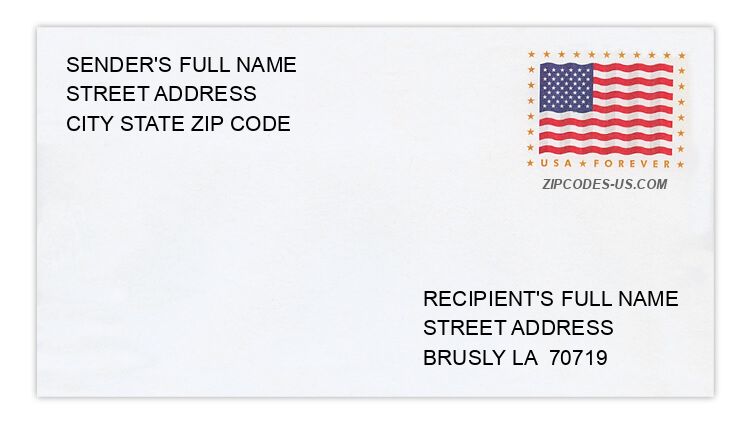 The recipient address information is provided for your reference.
Address example
252 ARCHIE LEJEUNE RD
BRUSLY LA 70719-2055
6315 CHEIN ROUGE LN
BRUSLY LA 70719-2619
570 GLEASON ST
BRUSLY LA 70719-2564
670 S VAUGHN DR
BRUSLY LA 70719-2438
203 ST MATTHEWS ST
BRUSLY LA 70719-2294
354 WILLOW OAK DR
BRUSLY LA 70719-2093
Census data for BRUSLY, LA
Demographic and housing estimates in BRUSLY, LA
Total population

| | |
| --- | --- |
| Total population | 2,739 |
| Male | 1,231 |
| Female | 1,508 |
Population by age

| | |
| --- | --- |
| Total population | 2,739 |
| Under 5 years | 131 |
| 5 to 9 years | 280 |
| 10 to 14 years | 253 |
| 15 to 19 years | 238 |
| 20 to 24 years | 105 |
| 25 to 34 years | 368 |
| 35 to 44 years | 311 |
| 45 to 54 years | 356 |
| 55 to 59 years | 222 |
| 60 to 64 years | 115 |
| 65 to 74 years | 239 |
| 75 to 84 years | 83 |
| 85 years and over | 38 |
| Median age (years) | 34.9 |
| Under 18 years | 811 |
| Under 16 years | 2,052 |
| 18 years and over | 1,928 |
| 21 years and over | 1,795 |
| 62 years and over | 429 |
| 65 years and over | 360 |
Population by race

| | |
| --- | --- |
| Total population | 2,739 |
| One race | 2,739 |
| White | 2,106 |
| Black or African American | 633 |
| American Indian and Alaska Native | 0 |
| Asian | 0 |
| Native Hawaiian and Other Pacific Islander | 0 |
| Some other race | 0 |
| Two or more races | 0 |
Citizen, voting age population

| | |
| --- | --- |
| Citizen, VOTING AGE 18 and over population | 1,914 |
| Male Citizen, VOTING AGE 18 and over population | 844 |
| Female Citizen, VOTING AGE 18 and over population | 1,070 |
Social characteristics in BRUSLY, LA
Households by type

| | |
| --- | --- |
| Total households | 1,050 |
| Family households (families) | 757 |
| Married-couple family | 545 |
| Male householder, no wife present, family | 86 |
| Female householder, no husband present, family | 126 |
| Nonfamily households | 293 |
| Average household size | 2.61 |
| Average family size | 3.14 |
Economic characteristics in BRUSLY, LA
Income and benefits (in 2018 inflation-adjusted dollars)

| | |
| --- | --- |
| Total households | 1,050 |
| Less than $10,000 | 33 |
| $10,000 to $14,999 | 76 |
| $15,000 to $24,999 | 190 |
| $25,000 to $34,999 | 81 |
| $35,000 to $49,999 | 64 |
| $50,000 to $74,999 | 92 |
| $75,000 to $99,999 | 109 |
| $100,000 to $149,999 | 237 |
| $150,000 to $199,999 | 99 |
| $200,000 or more | 69 |
| Median household income (dollars) | 71,563 |
Housing characteristics in BRUSLY, LA
Housing occupancy

| | |
| --- | --- |
| Total housing units | 1,111 |
| Occupied housing units | 1,050 |
| Vacant housing units | 61 |
Units in structure

| | |
| --- | --- |
| Total housing units | 1,111 |
| 1-unit, detached | 908 |
| 1-unit, attached | 14 |
| 2 units | 26 |
| 3 or 4 units | 34 |
| 5 to 9 units | 25 |
| 10 to 19 units | 0 |
| 20 or more units | 0 |
| Mobile home | 104 |
| Boat, RV, van, etc. | 0 |
Year structure built

| | |
| --- | --- |
| Total housing units | 1,111 |
| Built 2014 or later | 51 |
| Built 2010 to 2013 | 31 |
| Built 2000 to 2009 | 216 |
| Built 1990 to 1999 | 142 |
| Built 1980 to 1989 | 159 |
| Built 1970 to 1979 | 246 |
| Built 1960 to 1969 | 132 |
| Built 1950 to 1959 | 17 |
| Built 1940 to 1949 | 0 |
| Built 1939 or earlier | 117 |
Rooms

| | |
| --- | --- |
| Total housing units | 1,111 |
| 1 room | 31 |
| 2 rooms | 7 |
| 3 rooms | 38 |
| 4 rooms | 185 |
| 5 rooms | 237 |
| 6 rooms | 241 |
| 7 rooms | 200 |
| 8 rooms | 93 |
| 9 rooms or more | 79 |
| Median rooms | 5.7 |
Bedrooms

| | |
| --- | --- |
| Total housing units | 1,111 |
| No bedroom | 31 |
| 1 bedroom | 35 |
| 2 bedrooms | 168 |
| 3 bedrooms | 641 |
| 4 bedrooms | 219 |
| 5 or more bedrooms | 17 |
Housing tenure

| | |
| --- | --- |
| Occupied housing units | 1,050 |
| Owner-occupied | 856 |
| Renter-occupied | 194 |
| Average household size of owner-occupied unit | 2.57 |
| Average household size of renter-occupied unit | 2.79 |
Year householder moved into unit

| | |
| --- | --- |
| Occupied housing units | 1,050 |
| Moved in 2017 or later | 23 |
| Moved in 2015 to 2016 | 65 |
| Moved in 2010 to 2014 | 237 |
| Moved in 2000 to 2009 | 306 |
| Moved in 1990 to 1999 | 153 |
| Moved in 1989 and earlier | 266 |
Value

| | |
| --- | --- |
| Owner-occupied units | 856 |
| Less than $50,000 | 33 |
| $50,000 to $99,999 | 70 |
| $100,000 to $149,999 | 57 |
| $150,000 to $199,999 | 201 |
| $200,000 to $299,999 | 405 |
| $300,000 to $499,999 | 85 |
| $500,000 to $999,999 | 5 |
| $1,000,000 or more | 0 |
| Median (dollars) | 212,400 |
Mortgage status

| | |
| --- | --- |
| Owner-occupied units | 856 |
| Housing units with a mortgage | 481 |
| Housing units without a mortgage | 375 |
Gross rent

| | |
| --- | --- |
| Occupied units paying rent | 165 |
| Less than $500 | 21 |
| $500 to $999 | 114 |
| $1,000 to $1,499 | 24 |
| $1,500 to $1,999 | 0 |
| $2,000 to $2,499 | 6 |
| $2,500 to $2,999 | 0 |
| $3,000 or more | 0 |
| Median (dollars) | 758 |
| No rent paid | 29 |
Data is based on 2018 Census
ZIP Codes for other locations
Other cities in Louisiana