PEARSON ST, CLIFFORD, MI ZIP Code
| | |
| --- | --- |
| Street | PEARSON ST |
| City | CLIFFORD |
| State | Michigan |
| ZIP Codes count | 1 (see all) |
| Post offices count | 2 (see all) |
ZIP Code for PEARSON ST, CLIFFORD, Michigan
48727
This list contains only 5-digit ZIP codes. Use our
zip code lookup
by address feature to get the full 9-digit (ZIP+4) code.
ZIP+4 Codes for PEARSON ST, CLIFFORD, MI by house number
Address range
House number
ZIP+4 code

From 4477 To 4499

Odd

4477, 4479, 4481, 4483, 4485, 4487, 4489, 4491, 4493, 4495, 4497, 4499
48727-9545
Post offices
CLIFFORD — Post Office™
9581 MAIN ST CLIFFORD, MI 48727-5124
MAYVILLE — Post Office™
6120 FULTON ST MAYVILLE, MI 48744-9127
Envelope example
Using the full ZIP+4 Code when mailing via the USPS ensures the fastest, most accurate mailing possible.
If you are not sure of the full 9-digit ZIP Code, use the 5-digit ZIP Code to avoid loss of letter or package.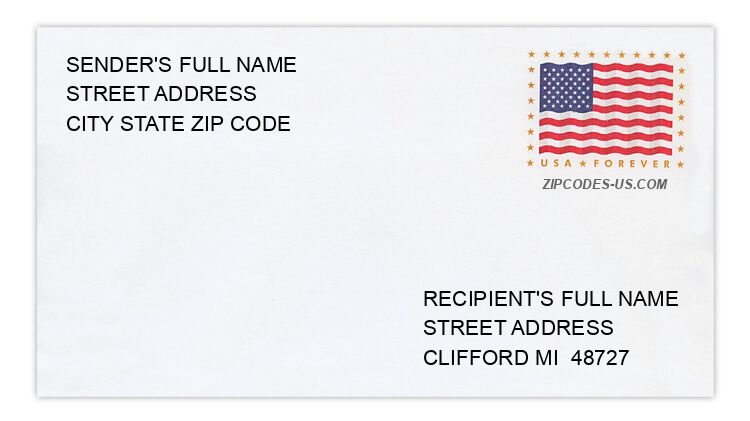 The recipient address information is provided for your reference.
Address example
4489 PEARSON ST
CLIFFORD MI 48727-9545
4483 PEARSON ST
CLIFFORD MI 48727-9545
4495 PEARSON ST
CLIFFORD MI 48727-9545
4487 PEARSON ST
CLIFFORD MI 48727-9545
4481 PEARSON ST
CLIFFORD MI 48727-9545
4499 PEARSON ST
CLIFFORD MI 48727-9545